2 Important Covers with the IQ260
In the limited time that the Phase One IQ260 has been available, Miami photographer Jeffery Salter has already produced two cover shoots with the new digital back. So far, he's thrilled with the final results. Here's a quick recap on his recent shoots:
Photographer: Jeffery Salter | Picture Editor: Marguerite Schropp | Art Director: Chris HercikI
"I wish I could say we spent hours analyzing slam dunks. But all I can say is 48 hours before this photo was taken, I was just leaving the Museum of Modern Art in NYC. After trying to see the Bill Brandt photography exhibition, Marguerite called and asked, "Where are you?". My next call was to Delta Airlines to book a 6:30 am flight back to Miami. My second call was to Capture Integration in Atlanta….that's where my camera was."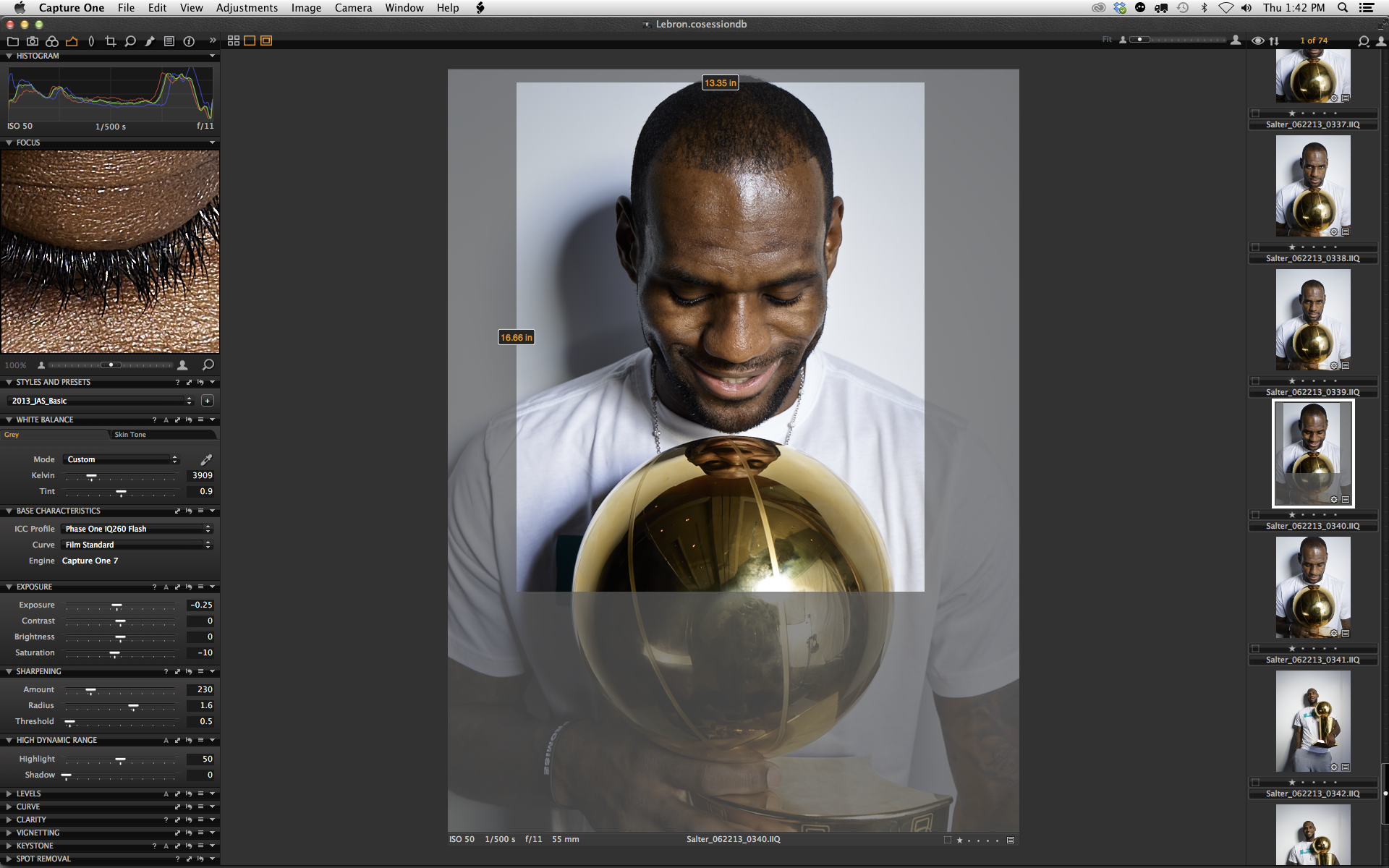 The shoot location was the Grand ballroom at the Four Seasons Hotel. It took about six hours to unload the production truck, navigate the basement labyrinth under the hotel – to make it into the ballroom and set up. My team built a set for a head to toe photograph intending to show LeBron James casually leaning back against a flat – nonchalantly holding the 2013 NBA Championship trophy. When LeBron arrived for my scheduled seven minute shoot, he was dressed extremely casually….so it was close-up time.
My hats off to the Capture Integration in Atlanta who flew down to provide digital capture for the shoot. It was amazing when Dave Gallagher brought along two brand new Phase One IQ260 digital backs with DF+ cameras. The LeBron shoot was taken with the "King" of Medium Format Digital cameras and is the first editorial cover shoot done with the camera. — Jeffrey Salter Here is a short behind the scenes of my seven minutes with the King.
---
Also check out my Ebony Magazine cover of Dwayne Wade. He's a loving father, and very close to his kids. I'm proud to have been one of the photographers of the September issue of "Ebony" which dedicated four covers to Trayvon Martin. My good friend Dudley Brookes shot the other three covers of Martin's parents, Sybrina Fulton, Tracy Martin and his older brother Jahvari Fulton. Additional covers feature Spike Lee and Boris Kodjoe. — Jeffery Salter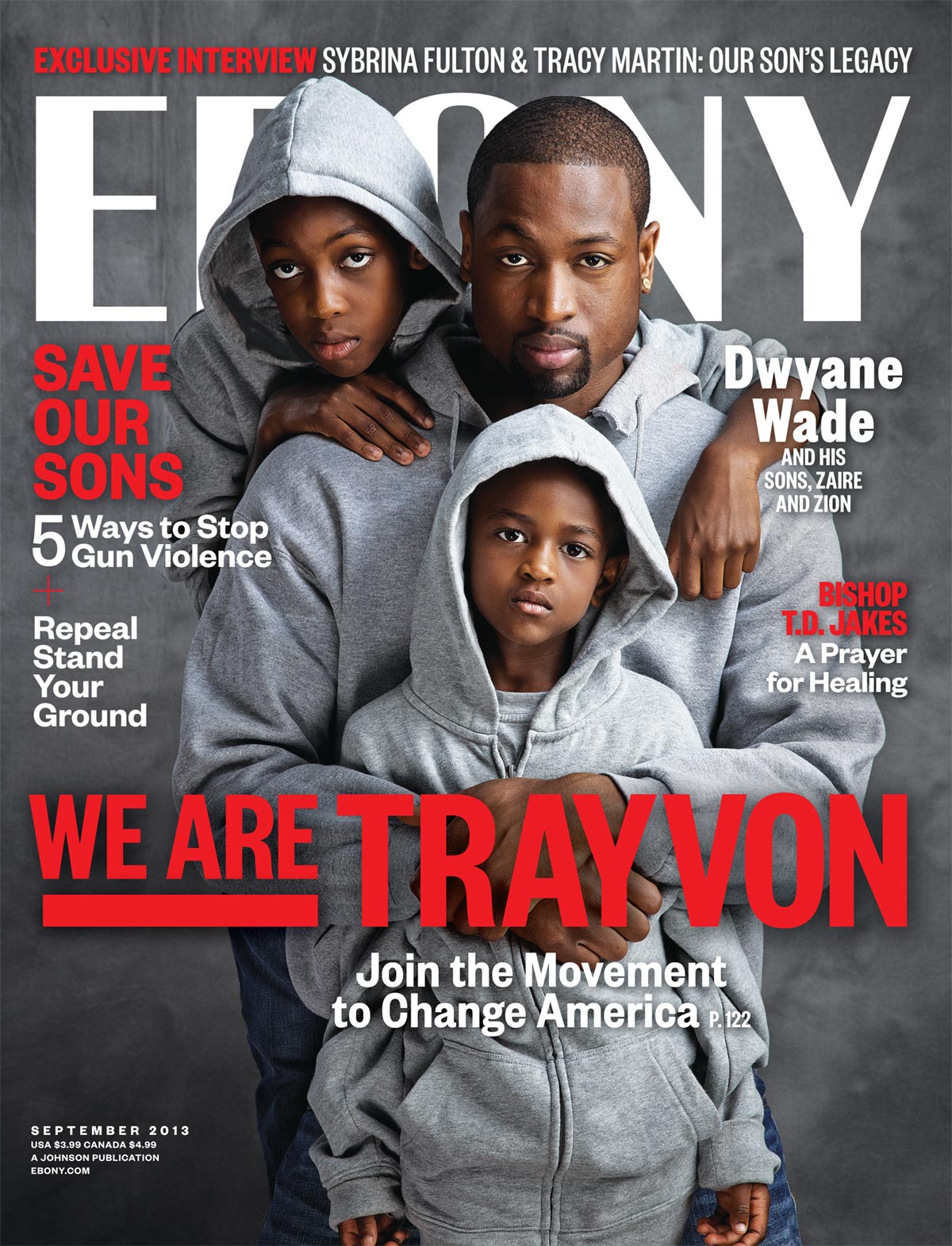 About Jeffrey Salter
www.jefferysalter.com
Photographer Jeffery Salter captures poignancy in the familiar and commonness in the extraordinary. From housewives in Uganda, to world-renown celebrities, he has dedicated his life to telling untold stories.
Moving between silver-base media to digital media, Salter has never lost sight of the importance of tending to his images. This passion both in front and behind the lens has not gone unnoticed. His work has appeared in many editorial magazines like Vibe, Essence, People, Rolling Stone and Forbes. He has been a staff photographer for Sports Illustrated Magazine and The New York Times. His work has appeared in nine photography books and five Day in the Life books. His fine art photography has been exhibited at the Brooklyn Museum of Art, The Smithsonian and the Corcoran Gallery of Art. A World Press award winner, he has also received honors from, Pictures of the Year and the Communication Arts annual.